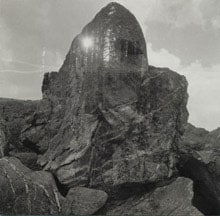 Steve Tibbetts doesn't make it easy. The innovative Minneapolis-based guitarist has cut some of the most idiosyncratic albums to come out of the German ECM label. Since moving to Hannibal/Rykodisc, he's given them the difficult but critically acclaimed album called Chö, setting the chants and hymns of Tibetan nun Choying Drolma to an abstract ambient landscape. Now there's Å, an album of ambient chamber works centered on the hardingfele, or Hardanger fiddle.
The hardingfele is a violin with a flat bridge and sympathetic strings like a sitar. Usually played as a solo instrument, it sounds to the uninitiated like fiddler Vassar Clements playing an Indian raga after his dog has died. But once you get past the atonality of the instrument, it opens up a world of hardscrabble tradition and that isolated, forlorn character that goes deeper than a Nordic cliché. Steve Tibbetts has been intoxicated by this sound for years, and on A he teams up with Norwegian hardingfele player Knut Hamre, clearly a Heifitz of hardingfele. Joined by a core group of fellow hardingfele player Turid Spildo, Tibbetts's longtime percussionist Marc Anderson, and jazz bassist Anthony Cox, the guitarist orchestrates ambient improvisations and atmospheres that hark back to his ECM debut, Northern Song. Like that album, Å--also recorded in Norway--brims with haunting moods and textures that splinter like the spider-web cracks of an ice-covered lake.
This isn't Norwegian folk music. Instead, it's the hardingfele spirit that is steeped in Nordic mythology and legends of trolls. You can just picture the gnarled creatures cavorting to Tibbetts and Hamre's dance.