Guitarist Steve Tibbetts does for the Norwegian hardangfele on "Å" what he did for Tibetan chants on "Chö."  He takes another difficult and atonal sound and casts it in an atmospheric frame that still captures the original spirit.  Knut Hamre playes the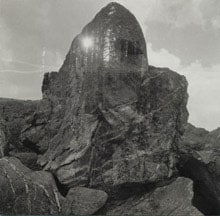 hardangfele, a flat-bridged fiddle with sympathetic strings like an Indian sitar.  Its whining sound embodies the legends of Nordic trolls and the grandiose landscape of Norway.
Joined by his logtime partner, percussionist Marc Anderson; another hardinfele player; Turid Spildo; and jazz bassist Anthony Cox, Tibbetts and Hamre weave intuitive improvisations with a mood that recalls the guitarists's first trip to Norway and his resulting ECM debut, "Northern Song."  Like that album, "Å" conjures up an enveloping and imagistic soundscape.
-John Diliberto