Choying Drolma and Steve Tibbetts in Philadelphia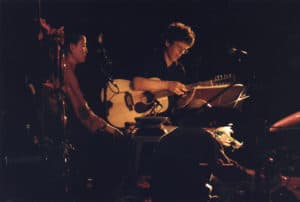 April 2005
Choying Drolma and Steve Tibbetts Live at The Gatherings Concert Series, St. Mary's Hamilton Village in Philadelphia
Horizons unfolded anew at St. Mary's Hamilton Village on the campus of the University of Pennsylvania Saturday night, adding another chapter to a concert series' book of dreams. Choying Drolma, Buddhist nun and visionary vocal expressionist visiting from "the foothills of the Himalayas," renowned guitarist Steve Tibbetts and contemplative percussionist Marc Anderson executed a flawless musical performance at their return-engagement Gatherings appearance. I'd missed the trio's first outing several years back, so this night was approached with high personal anticipation.
The mood of the evening was sparked as Tibbetts and Choying Drolma spoke at length during a couple of musical interludes. Tibbetts divulged his enlightening crossing-of-paths with his co-musicians. Marc Anderson, as fans of Tibbetts know, has been a longtime collaborator, and their transversal was domestic in nature; Tibbetts' meeting with Choying Drolma, however, took place in a monastery in Nepal. Here he first heard "the voice."
A voice, as Choying Drolma later explained, which might spend an entire day chanting the same 11th century "termas" heard Saturday night. These vocal offerings, passed down through the ages, are beautiful, contemplative, and root themselves in meaning of altruism, self-confidence and continuity, but not of the deconstructive ego. Choying Drolma would smile, "Yes. In search of this continuity, we perform all day in Nepal. However, people here seem to have much less time. We'll give you ninety minutes."
The voice becomes even more magical when shared with the exquisite accompaniment of Tibbett's guitar and the diversified percussion talents of Anderson. Evening throughout, as Choying Drolma serenaded the sanctuary, the gentlemen kept the instrumentation low-key, still managing to reveal profound talent through subtlety. Occasionally the chants would diminish; here Tibbetts' and Anderson's interaction became more apparent; in fact spellbinding.
Choying Drolma's childhood dream was to found a school in which the full potential of Buddhist nuns might be realized. The gorgeous event witnessed by a near-capacity crowd Saturday night was in support of this dream ... currently a vision in progress, and succeeding.
-by Soma611 as posted to the Spacemusic list (#9502) Wed 13 Apr 2005