First Album–Cuneiform Bio
Steve Tibbetts / First Album
In 1975 I had a sort-of girlfriend named Anne, and she had a sort-of boyfriend named Tim, and Tim and I got to be pretty good friends mostly because we admired each other. He admired the motorcycle that I kept in my 3rd floor dorm room at Macalester College and my exquisite ponytail, and I admired Tim's beard, his IQ of 4000 and his Digitoke.
Bored college students were always looking for new ways to inhale in those days and Tim, being a brilliant engineer, invented the Digitoke. The Digitoke was a modified air compressor with a bowl and screen arrangement on the top that could hold half an ounce of reefer. The rest of the machine was a science fiction-like amalgam of blinking lights, keyboards, readouts, and a hose that terminated in a gas mask-like device that was secured to the head with elastic straps. Tim would invite his friends over, fill up the bowl and use a keyboard to type in length of hit, proportion of air / marijuana mixture, and strength of air flow. He'd strap the mask on his customer, grin his fiendish grin, turn on the Digitoke, and play the flame of an acetylene torch over the bowl. After we'd all had our turn we'd listen to Tim's state of the art stereo, in silence. We'd listen either to some record on the Impulse label (Coltrane or Pharaoh Sanders) or whatever new Mountain record Tim had. This went on for a few weeks until we got bored again.
One fall evening in 1975 Tim stopped by my dorm room on a social call to find me deep in the midst of my first multi-track experience. A friend named Scott Stevens had lent me his Roberts tape recorder. This particular Roberts was a two-track affair that had sound-on-sound capability. It was a little slice of heaven for me, having been a fan of Paul McCartney and Todd Rundgren's one-man band recordings. "I bet I could do that," I thought. I found out I couldn't, at least not with the Roberts, but Tim said, "Listen, I'm the proctor of the new electronic music studio. I'm the only one they know who can solder, so the music department offered me a work-study job. They have a four track. Do you want to see it?" Well, sure. We went to look at the studio.

Macalester, having a Scottish motif, had student bagpipers play at football games and bagpipers needed somewhere to store their kilts. The music department had kindly donated the kilt closet to house the new electronic music studio. It was about five feet by ten, unventilated, and smelled like forty years of sweaty kilts. It was wretched, but it had the sacred four-track (a Dokorder 7140), one microphone, a 4-channel mixer, an EML 101 synthesizer, and two Revox tape recorders.

It also had a note scribbled (I think) by John Bunge on a piece of paper and stuck up on the wall: "It's all too beautiful." (From the Small Faces tune "Itchycoo Park") That's how it seemed to me. In spite of the squalor and sweaty kilt smell it seemed like a dream about to come true. Tim played me a piece he had written on the synthesizer called "Avalanche." The power and majesty of it was overwhelming. Tim could tell I was smitten. "You should work in here," he said. I agreed.
I walked home feeling I was viewing everything from a great height. "This is better that the Digitoke," I thought.
I finished up my art major, decided I wasn't going to be an art teacher, and spent the fall and spring of 1975-76 in the studio. Unfortunately, I graduated in 1976 and could no longer use spend time in the studio as a legally enrolled student, so I used it illegally during the summer of 1976. 1 would stroll innocently through the music department sometime late on a summer day and prop open one of the inward-swinging windows on the ground floor. At about 11pm I would ride my bike over with the "Mission Impossible" theme in my head, slip in, and work until about 4AM. It seemed daring, mysterious, and clandestine. Up all night. Ride home at dawn. My secret work.
By late summer of 1976 I had enough music for an album but little chance of getting a label to put it out. I did have something I could use for a cover from my work as an art major and a little money saved from my night shift job at Minnesota Public Radio, so I found a pressing plant in Arizona that would manufacture 200 albums for $600 and I sent them my stuff.  About a month later they sent me the finished albums.
I mounted an aggressive ad campaign, sent flyers to my friends, and wondered what to do with 4 boxes of records.

I gave one to my friend Pig.  Pig Munson.  I don't know how he got the nickname Pig. Pig took it home to Rapid City during Christmas '76 and played it for his friend Bull. Bull's real name was Kevin Bitz.
Bull took it to San Francisco and played it for his friend, David, who had the afternoon drive shift at KTIM in San Rafael.  David and the rest of the staff at KTIM put the album in heavy rotation.  Suddenly I was more popular than AWB, but not as big as Queen.  That seemed right.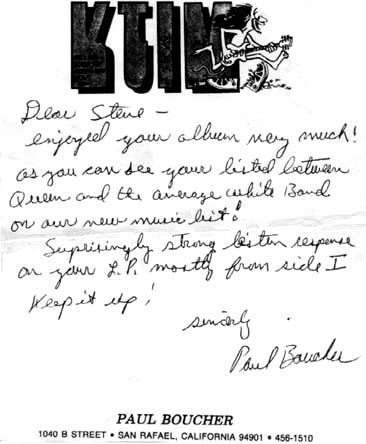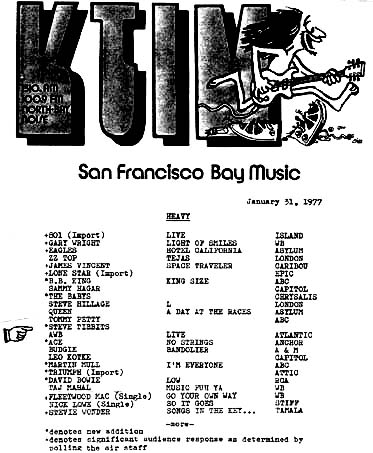 Bull invested $1000 to press and distribute the album in the Bay area, and that's the last I heard from him except for two phone calls.   The first call was to tell me that television broadcasts of the Bay Area Bombers roller derby team were using "Jungle Rhythm" as their theme music.   He called me just as the broadcast was starting; "And now, the Bay Area Bombers take on the San Jose Rockets..." There it was, the throbbing sound of "Jungle Rhythm," and as Bull described it, footage of women on rollerskates in helmets crashing into each other. The second call was to tell me that Clive Davis (then president of Arista Records) might be calling me soon. I hovered around the phone for about two weeks.
I sold enough of my first album to buy an eight-track recorder and set up my own studio. I recorded my second album there (Yr) and collected about 200 rejection slips from record companies for it. I put the album out myself and included in the press kit selections from the rejection slips I'd cut up and reassembled in a fit of petulant wrath.

I sent the album and press kit to ECM and they thought it was funny enough to give the album a listen. They were not interested in releasing it but they did send me a letter (with the same strike-overs as the fake rejection letter) offering to do an album "with them directly."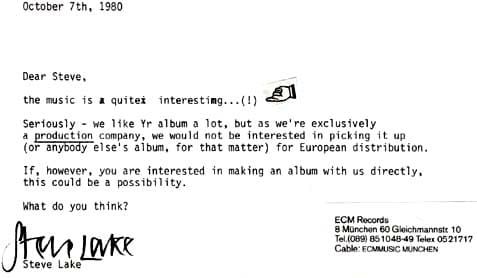 So we recorded Northern Song in Oslo in 3 days, an album that I had some difficulty with at the time. That was followed with albums recorded in my studio: Safe Journey (1984), Exploded View (1987), Big Map (1989) The Fall Of Us All (1994) and more. Between albums I traveled in Asia, sometimes working for study abroad programs (disclaimer: I have no idea what "Director of Health and Well-being" means) .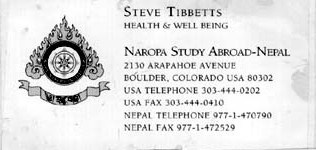 Sometimes I received small arts grants to study music abroad, or to travel and record sounds to use in the studio.
Every now and then a writer will come to interview me at my studio. When they walk in the door they usually pause for a moment and look around slowly.  I always think they are amazed and thinking something along the lines of, "It's all too beautiful," but, no. They interview me, depart, and then begin their story with something like, "In an airless, dark room in an abandoned warehouse..."
The last I heard from Tim he was working for Canadian Bell. He's their resident computer genius, responsible for the software that handles all phone lines in Canada. Pig is now Mark, and makes prosthetic limbs. Bull disappeared. Clive never called.